Hey there farmers! 
One of the many things you can produce on your farm is SPACE CAKE. Here's how to do that! 
Space Cake - Head on over to the Bakery and give your worker 2 Butter, 6 Purple Kush, and 6 Pot Flour to bake up 13 SPACE CAKES in 45M.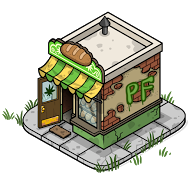 The Bakery (green/yellow striped awning building with the bread sign) is unlocked at LVL 16 and produces the following:
Bud Bread (1 worker)
Space Cake (2 workers) *unlocked at LVL 23
Banana Bread (3 workers) *unlocked at LVL 30
Grilled Cheese (4 workers) *unlocked at LVL 36
Brownies (5 workers) *unlocked at LVL 42
Remember that you will need to perform maintenance on these buildings after you run them a bunch of times! So be prepared for that!
Not helpful? Submit a request so we can help you out!