Hey there farmer!
So cool that you've gotten far enough in the game to start making some resources, and awesome to hear that you want to learn how to make some Pot Flour! We can definitely help you out here and walk you through the steps.
First, we need to make sure the Mill and Pot Flour are both unlocked! You can access Flour at level 10, which is when you first unlock access to the Mill.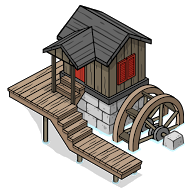 The Mill produces the following:
Pot Flour x6 (1 worker)
Pot Flour x12 (2 workers) 

*unlocked at LVL 19

Pot Flour x20 (3 workers) 

*unlocked at LVL 26

Blonde Hash x1 (4 workers) 

*unlocked at level 28

Red Hash x1 (5 workers) 

*unlocked at level 56

Widow Hash x1 (6 workers) 

*unlocked at level 76
The first product you'll be able to make is Pot Flour! For this, you'll just need to provide enough Homegrown to fulfill the ingredient requirements. All in all, the whole process takes 12 Minutes, but you can always speed it up with Potbucks if you want. 
Remember that you will need to perform maintenance on these contraptions with Materials after you run them several times, so be prepared for that!
You can also make Pot Flour using various Gizmos! For more about Gizmos, check out this article:  What are Gizmos?
Puff on, and click the buttons below to let us know if this article helped you!