Hey there farmers! 
One of the many things you can produce on your farm is BANANA BREAD. Here's how to do that! 
Head on over to the Bakery and give your worker 12 Bread, 12 Banana Kush, and 3 Milk to bake up 24 BANANA BREAD in 2H.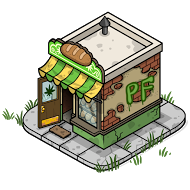 The Bakery is unlocked at Level 16 and produces the following:
Bud Bread (1 worker)
Space Cake (2 workers) *unlocked at LVL 23
Banana Bread (3 workers) *unlocked at LVL 30
Grilled Cheese (4 workers) *unlocked at LVL 36
Brownies (5 workers) *unlocked at LVL 42
Remember that you will need to perform maintenance on these contraptions with Materials after you run them several times, so be prepared for that!
You can also make Pot Flour using various Gizmos! For more about Gizmos, check out this article:  What are Gizmos?
Not helpful? Submit a request so we can help you out!