Hey there farmers! 
One of the many things you can produce on your farm is BUTTER.  Here's how to do that! 
Butter x4 - Head on over to the Dairy and give your worker 3 Milk and 6 Northern Lights to churn out 4 sticks of Butter in 5M.
Butter x40 - If you've got the Dairy upgraded and give your workers 18 Milk, 24 Northern Lights, and 1 Super Silver Haze to churn out 40 sticks of BUTTER in 3H.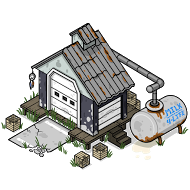 The Dairy building (blue building with white tanks) is unlocked at LVL 18 and produces the following:
Butter (1 worker)
Ice Cream (2 workers)

*unlocked at LVL 26

Chocolate Milk (3 workers) 

*unlocked at LVL 33

EVEN MORE Butter (4 workers) 

*unlocked at LVL 40

Banana Split (5 workers) 

*unlocked at LVL 50
Remember that you will need to perform maintenance on these contraptions after you run them a bunch of times! So be prepared for that!
You can also make Weed Butter using various Gizmos! For more about Gizmos, check out this article:  What are Gizmos?
Not helpful? Submit a request so we can help you out!